With ongoing challenges in the local healthcare system, diversifying services and finding new solutions is more important than ever before. Changing where and how seniors receive care as they age is one way to provide the services patients need, while easing the strain on local hospitals and medical clinics.
In Campbell River, Golden Grove has been helping alleviate some of that pressure by expanding in-home services to local seniors and residents of all ages who are in need of that support.
"We have a wide variety of care services available to our clients and we continue to expand those services to better serve our local community," says Jacklyn Walker, manager at Golden Grove.
"What sets us apart is the ability to build meaningful relationships with our clients and take the time to care for their mental and emotional health as much as we care for their physical health."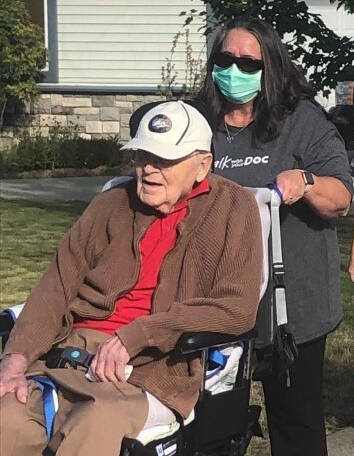 In-home services available from Golden Grove include:
Palliative in-home care
In-home exercises, post-op recuperative care, physio and daily walks
Individualized care plans that take mental, social and emotional wellbeing into account
Compatibility matching for clients, ensuring they find the right caregiver
Respite care services
"We also provide a hospital-to-home transitional support program," says Walker. "Seniors who've experienced an extended hospital visit can face significant challenges when it comes to going home yet there are many benefits for seniors returning and staying in their own homes for as long as possible."
Hospital-to-home transitional support:
Helping seniors return home to get the care they need, instead of staying in hospital, is both good for the patient and good for the medical system. Golden Grove's individualized care can help seniors adjust more easily from hospital to home, improving long-term outcomes.
"Seniors with dementia and Alzheimer's in particular can really struggle with hospitalization. Staying in hospital can be scary, unfamiliar and traumatizing to their already fragile mental health," Walker says. "Transitioning them back into their familiar home environments can improve their overall quality of life, reduce dementia related triggers and speed up their overall healing process."
Ensuring seniors have the right care services available to meet their needs results in a healthier, happier community for everyone.
To learn more about Golden Grove In-Home Care Services, book a free consultation online here . You can also reach them by phone at 236-854-0994, and find them on Facebook.
For more information about Golden Grove Residential Care Homes, or to join the waitlist, visit goldengrovehomes.ca
READ MORE:
Campbell River business offers new, flexible services for in-home senior care