A proposed marine conservation area around Saanich Peninsula and the Gulf Islands could stop ships from using parts of the area.
Originally pitched in October 2011, the proposed area covers a broad area of about 1,400 square kilometres.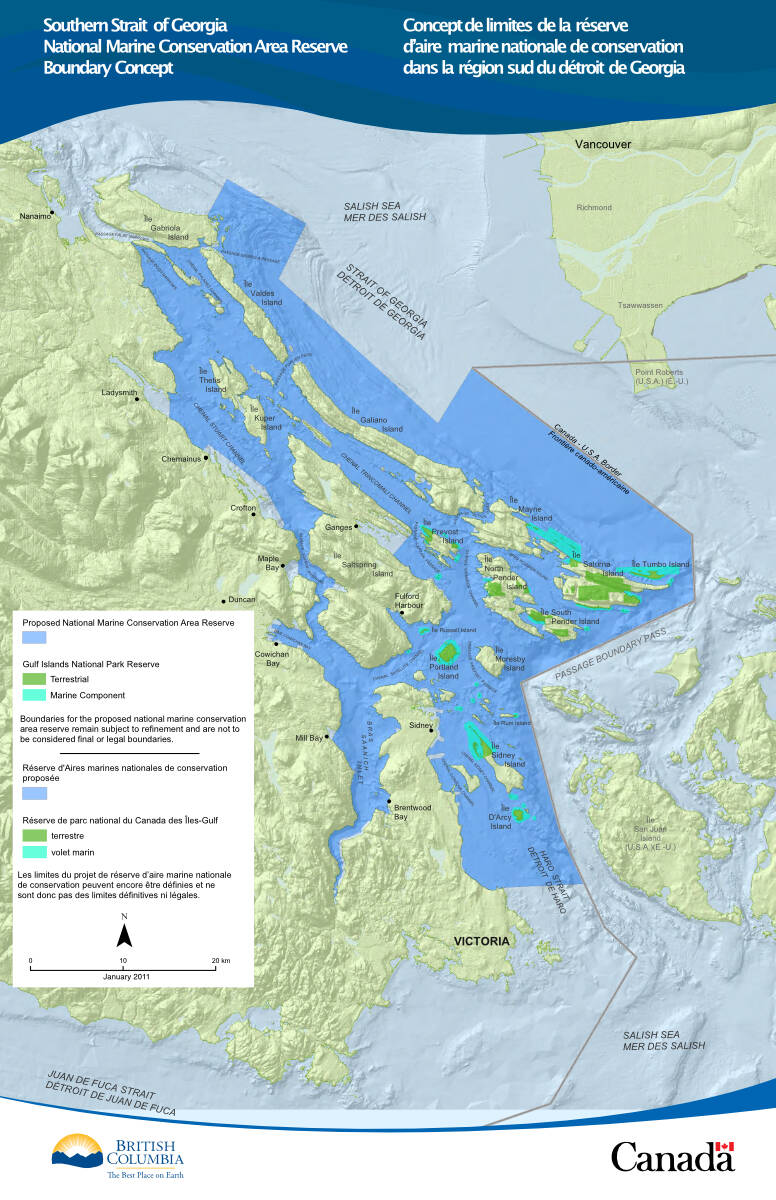 Parks Canada recently launched a new policy for marine conservation areas which includes a zoning framework with zomes that would ban ships from using the area if it was needed to protect the ecosystem. One would prohibit everything but traditional uses and permitted research ships, while looser zones would allow commercial shipping and tourism but not recreational fishing.
"Were a national marine conservation area reserve to be established in the area, the zoning plan, developed through the management planning process, could include areas where shipping would not be allowed. This plan would need to be developed collaboratively with First Nations, Transport Canada and the marine transportation industry," a Parks Canada spokesperson wrote in an email.
Calls for protection in the area have been coming for years, especially as the number of freighters anchoring in the area – from 2011 to 2022 it jumped from 140 dry and liquid bulk vessels anchored in the Southern Gulf Islands a year to 457 bulk vessels.
Back in November of last year, Alistair MacGregor, MP for Cowichan—Malahat—Langford, tabled a private member's bill calling for a ban on freighter anchorages within the proposed marine conservation area.
Transport Canada ruled out such a ban.
"That's kind of the obvious contradiction that's in place," said MacGregor. "I think national marine conservation areas, to some extent, do still allow commercial activity to take place. But I think our point has always been that the continued use of these anchorages just goes against the spirit of why the NMCA is so important."
While leadership meetings have happened between local First Nations and various levels of government, Parks Canada said there were no updates on establishing a marine conservation area.
---
@moreton_bailey
bailey.moreton@goldstreamgazette.com
Like us on Facebook and follow us on Twitter.