Funeral services for Aldergrove's Kathy Kim Le were held Friday and Saturday.
Family and friends filled a chapel in Surrey for a memorial service on Friday, Jan. 6, to say goodbye to the 18-year-old from the Lower Mainland community, who was killed in a Christmas Eve bus crash while she was trying to get home for the holidays.
Mourners were greeted by an image of the former Aldergrove Community Secondary School student in her grad cap and gown, surrounded by flowers.
Her cremation was held Saturday, Jan. 7.
A family spokesperson, her uncle Hung Pham, said Kathy's ashes were taken to a monastery and will be brought home at a later date to be put in a shrine.
Her grieving father, Ut Van Le, has released his last conversation with his daughter, a brief text exchange confirming she was on her way home to have Christmas with her family.
Kathy had been visiting her best friend in Kelowna and was planning to move in with her.
She wanted to be with her family for Christmas, but when she couldn't get a flight due to extreme weather conditions, that had forced the cancellation of almost all flights into Vancouver International Airport, Kathy ended up taking a bus on Christmas Eve.
When Le sent a text to his daughter's phone, to see if she was on the bus, she replied that she was.
"I'm on the way. I will be late. REALLY late :)," Kathy messaged.
"When you are in Abbotsford, call dad," her father responded.
"Oki," she typed back.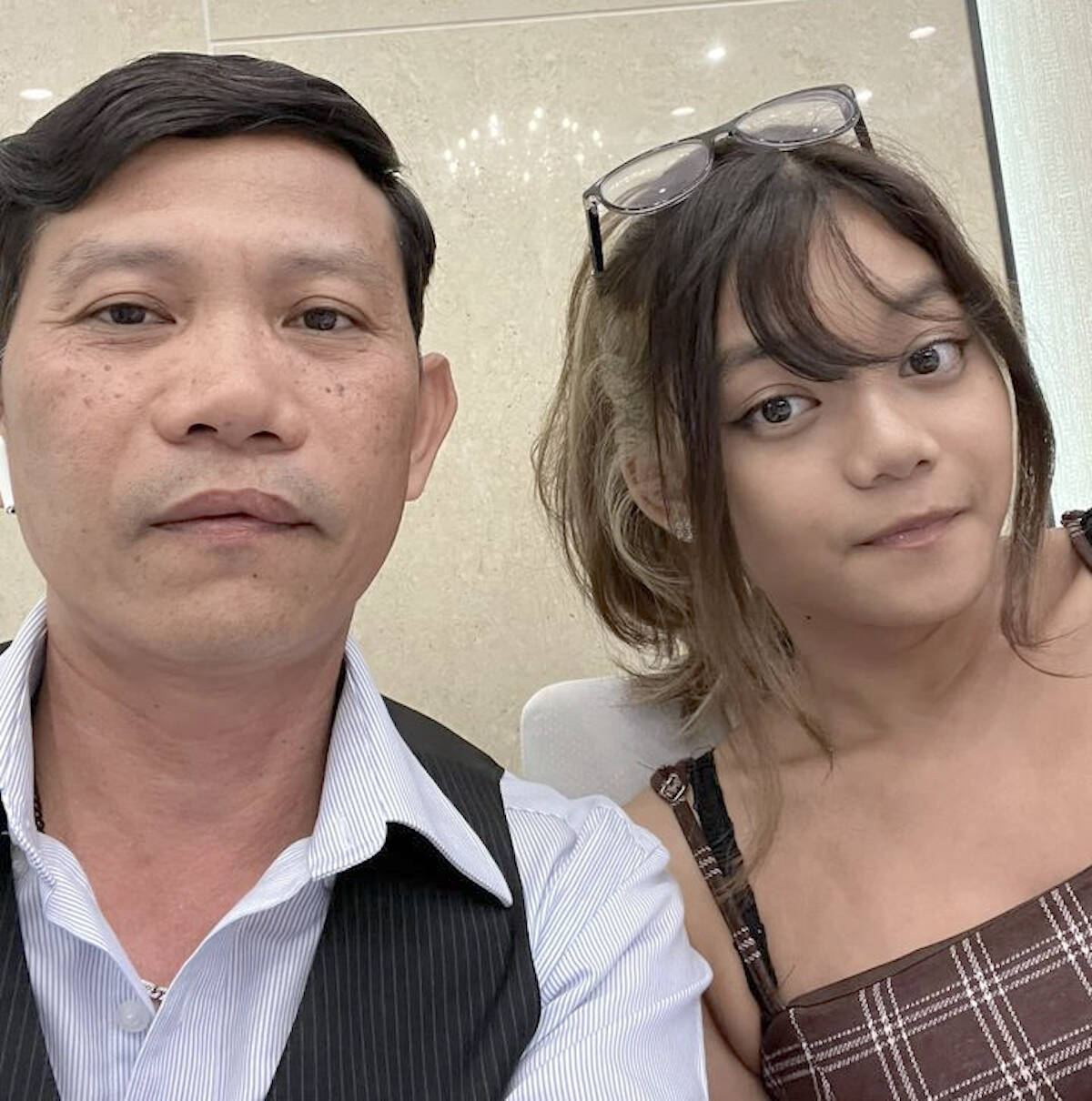 Her uncle told the Langley Advance Times Kathy had taken the bus "against her family's wishes."
It was Christmas morning, around 1 or 2 a.m. when the RCMP called, he said.
The passenger bus Kathy was riding in had crashed along Highway 97C between Merritt and West Kelowna, near the Loon Lake exit.
It was around 6 p.m., well after the sky had turned dark, that RCMP said the bus "encountered adverse road conditions." It went off the road, crossed the median and flipped onto its passenger side.
Four people, including Kathy, died in the rollover crash.
READ ALSO: B.C. Christmas Eve bus crash victim leaves behind young family in India: cousin
On Christmas Day, instead of celebrating the season, Kathy's family held a ceremony at the Hoa Nghiem monastery in Aldergrove, arranging to have the monks pray for Kathy for 49 days.
A Christmas statement by the head of the bus company, Alberta-based E-Bus, drew an angry reaction from the family.
"I would like to extend our deepest condolences to families and loved ones so heavily impacted by this tragic event last night," E-Bus president and COO Tom Jezersek said, adding "our thoughts and sympathies are with those injured and grieving at this time."
"How about contacting the families of the deceased directly for condolences and support?" Hung said in a post responding to the online statement.
"My niece was one of the victims in this crash and no one from the company has contacted the parents. They got a knock on the door at 2 a.m. Christmas Day from the RCMP and that is all."
As of Sunday, Jan. 8, Hung said the company had yet to contact the family.
Langley Advance Times has reached out to Ebus for comment.
---
Is there more to the story? Email: dan.ferguson@langleyadvancetimes.com
Like us on Facebook and follow us on Twitter.