This is the second instalment in a three-part series on single-family homes in Greater Victoria. Find part three in next week's edition or the full series online at vicnews.com/tag/housing-crisis.
With an estimated 22 years needed to save for a down payment and an annual household income of $216,000 needed, the dream of owning a single-family home is unattainable for many residents in Greater Victoria.
But simply building more homes may not be the answer.
"Single-family homes just don't work any more," said Victoria resident Robert Berry. "There's not enough 6,000 sq. ft. lots in Victoria for everyone to get their own land."
His awakening, as he called it, occurred in his 20s while he watched his friends move out of Oak Bay – where he had grown up – to either Langford or out of the region entirely because there was no housing available.
"We're looking around going 'wow, where are the townhouses or condos for us,'" he said. "We've all left."
Berry decided to take action by advocating for attainable middle-income housing to be built again in Greater Victoria.
"I got tired of essentially watching my friends move out of Victoria."
So Berry, along with other members of Homes for Living, started attending public hearings and other municipal meetings to give a voice to those who are vulnerable to the housing crisis by advocating for all types of housing – including multi-unit, mixed-use and non-profit builds.
"We have a serious housing shortage," Berry said, and if something isn't done to address it, single-family homes will only increasingly become more unaffordable for most.
Zac de Vries, a second-term Saanich councillor and chair of the Capital Region Housing Corporation, has seen a socio-economic and generational divide among the public and councils that has resulted in well-housed residents not seeing the urgency in Greater Victoria's housing situation and people under the age of 35, in particular, left struggling.
"A wide range of people have been driven out of the single-detached market for years – we're talking decades."
Yet, as he noted, local municipalities continue to predominantly build single-family homes. These homes are financially out of reach for the vast majority of residents, leaving the majority of residents fighting for the limited supply of other units in the market – also increasing pressure on the rental market.
"This was decades and decades in the making … It's going to take us a long time to build out of this in a meaningful way."
The Canadian Mortgage and Housing Corporation estimated in a June 2022 study how much additional housing supply would be required nationally to restore housing affordability by 2030.
Affordability – the cost of housing to income – will continue to worsen, the report predicted, if supply isn't increased to match demand.
"The last time housing was affordable was in 2003 and 2004."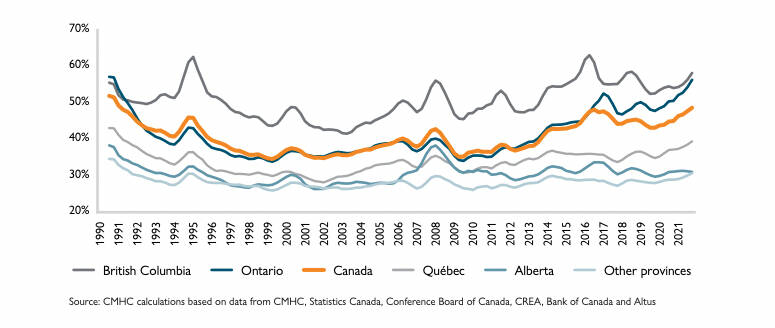 At that time, a home-buyer in B.C. would have needed 45 per cent of their disposable income to buy an average home. By 2021, that rose to almost 60 per cent.
"If the current rates of new construction continue, we project that the housing stock will increase by 2.3 million units between 2021 and 2030. This will reach close to 19 million housing units by 2030."
But the report predicted 3.5 million units would be needed, translating to more than 22 million units by 2030 to help achieve housing affordability nationally.
"Overall, the loss of affordability can be attributed to a housing supply not responding to demand in some of Canada's large urban areas over the last 20 years."
In B.C., the report predicted 21 per cent more housing units (570,000) would be needed above the 'business-as-usual' scenario to get housing affordability down to 44 per cent and 24 per cent more (620,000) to achieve 40 per cent.
"Canada's approach to housing supply needs to be rethought. It needs to be done differently. There must be a drastic transformation of the housing sector — including governments — and priority given to increasing the supply of housing to meet demand."
In 2019, the province mandated municipalities complete housing needs reports by April 2022 (and every five years thereafter).
If Victoria continues to grow in a similar pattern to the past, the city will see an additional 5,016 households form between 2016 and 2025 – made up of 47 per cent renters and 53 per cent owners – according to its 2020 report. To meet that projection, the city would need 2,900 more units between 2020 and 2025.
In Langford's 2020 report, its population was expected to grow by 2,775 households between 2020 and 2025.
While Langford's traditional housing stock was predominantly single-family homes, "between 2015 and 2019, 72.5 per cent of additional dwelling units in Langford were apartments, 17.5 per cent were single-family dwellings, 9.3 per cent were townhomes, and one per cent were duplexes."
In Saanich, its 2020 study predicted a total of 3,049 units – 1,231 studio or one-bedroom, 1,178 two-bedroom, and 640 three or more bedroom units – would be needed by 2025.
"Family-sized housing in Victoria, Saanich, and Esquimalt is increasingly out of reach for families with children. The affordability gap analysis showed that the cost of a single detached home is out of reach for couples with children making the median household income, and far out of reach for lone-parent families," the report said.
On the Peninsula, Sidney's 2019 report predicted an additional 322 owner households would be needed between 2019 and 2024.
"As in many communities, households without existing equity, primarily younger households … are disadvantaged in the market. This may be particularly acute in Sidney where seniors are such a large portion of the population and many are selling single-family homes to downsize into comparatively less expensive condominiums. The consequence of this has been that working-age adults, particularly renters, are struggling to find or afford housing in Sidney."
"It's scary to think about that many people in bad situations because of housing," said Berry, who sees people living in their cars leave for work every day because they're unable to find or afford housing. "It's tragic."
---
Do you have a story tip? Email: newsroom@vicnews.com.
Follow us on Twitter and Instagram, and like us on Facebook.