Supporting their local communities is a year-round commitment for Alitis Investment Counsel.
From sponsoring local clubs and fundraising initiatives to helping children across Vancouver Island enjoy the holidays, that commitment is essential to those living, working and raising their families right here on the Island.
"One of our key values is people, and in that value is supporting our local communities,"says Alicia Reny, Regional Office Manager at Alitis Investment Counsel. "With so many of our clients being Island locals, supporting our local communities has always been a top priority for us."
With the holidays fast approaching, Alitis team members across the Island are already preparing for another busy season where supporting Island kids comes first. Alitis supports three major children's organizations: the Campbell River Angel Tree Society, Santa's Workshop in Comox Valley and CFAX Santas Anonymous in Victoria.
"When our team was discussing how we could give back to the community over the holidays, the resounding response was a preference to help Island children have a positive holiday experience and how we could best achieve that," Reny says. "With that in mind, these three organizations, along with the annual Campbell River Festival of Trees, are where we'll be focusing our community work over the holiday season."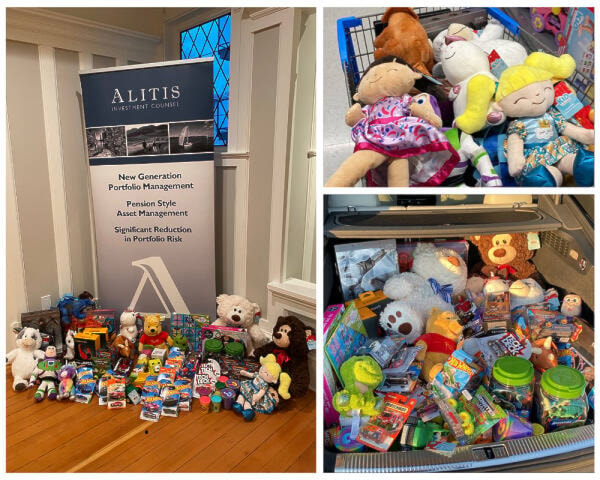 Angel Tree Society, Santa's Workshop and CFAX Santas Anonymous all work toward a similar goal: ensuring local children wake up to toys under their trees and that no child has to go without over the holidays.
The annual Campbell River Festival of Trees is a fundraiser hosted at the Campbell River Museum, where businesses, organizations and families across Campbell River sponsor and decorate a tree. The trees then help transform the museum into a winter wonderland, open daily throughout December.
"People, and subsequently our team and our community, are part of our core values," Reny says. "Making time to support the people around us and our Island home as a whole is built into the foundation of Alitis. While we actively work toward supporting these initiatives this holiday season, we also hope to inspire other community members to do the same."
Is the Alitis Approach right for you? Call 250-287-4933 or email info@alitis.ca to learn more. Find them in Campbell River at 101-909 Island Highway, the Comox Valley at 103-695 Aspen Rd., in Victoria at 1480 Fort St., or online at alitis.ca.
READ MORE from Alitis:
Investing for the future: Real estate's potential in a growing Canada
Mid-2023 market outlook: What to watch and how to react
What it looks like when you put people first
Time on the market beats timing the market