Grocery shopping with kids is rarely an easy process, especially when stores are not especially 'kid friendly.'
So when a local mother of three recently voiced her frustrations with shopping at her local Save-On-Foods here in Campbell River, the store stepped up with a few changes.
Included among the concerns were that the store had no parent parking and that the standard grocery carts presented a particular challenge for parents with infants and/or multiple children.
"If you put your carseat in the cart, you end up with zero room for groceries. Save-On-Foods used to have family-style carts to accommodate shoppers with children and they made a big difference," Savannah Anderson said in her email to Campbell River store manager Randy Carswell. "There is also a need for parent parking that can allow for families to safely get in and out of their vehicles with enough space to accommodate loading and unloading infant car seats."
Carswell took Anderson's words to heart and set about finding a solution for local parents facing similar difficulties while shopping at the store.
"Our family shopping carts were removed during the pandemic as a precaution to reduce potential contact, and it was always our intention to replace them," Carswell says. "But when Ms. Anderson reached out, we realized just how challenging it was for parents trying to shop here and quickly set to work to make our store more welcoming to local families."
Carswell found a supplier in the United States to restock their family-friendly shopping carts and adjustments were made to the store's parking lot to accommodate a parent-specific parking area. The new parking spot offers wider parking margins and a sign with the store's customer service number, so parents can even call upon arrival and have the cart brought out to them.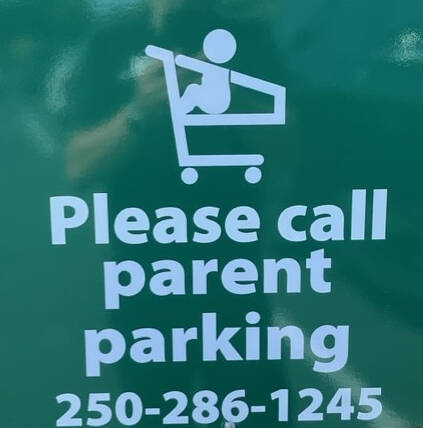 Carswell contacted Anderson for her feedback before finalizing the order, then once the carts came in, invited the family to the store for a test run before releasing it for public use.
"The parent parking is amazing and the cart worked so well," Savannah says. "They manoeuvre really easily and have lots of space for groceries and kids! They're perfect for parents with multiple children of all ages and abilities."
Making Save-On-Foods an inclusive and comfortable shopping experience for everyone is a top priority and Carswell hopes that Anderson's story will encourage other shoppers to communicate their needs so the team can better accommodate them.
Find more information about Save-On-Foods here or visit them in store at 1400 Dogwood St. Follow them on Facebook and Instagram for the latest on sales and store updates.