If you could design the ultimate no-holds-barred sports car, it would likely include an exotic turbocharged engine positioned directly behind the cockpit, and an equally exotic-looking carbon-fibre body sprinkled with all kinds of flaps and wings.
In the real world, however, the comparatively humble Porsche 911 delivers the performance goods in a most understated way. Although it traces its rear-engine DNA back to Volkswagen Beetle originally created in the mid-1930s, the 911 nameplate celebrates its 55th anniversary in North America this year.
The latest 911 — code named 992 — covers a wide assortment of coupe and cabriolet (convertible) models.
Unless you're an expert on the marque, it's difficult to pinpoint the changes from one generation to the next. And that's the case with the 2020 911, although upon closer inspection the hood's leading edge has been squared-off and the air vents and oval headlights have been enlarged.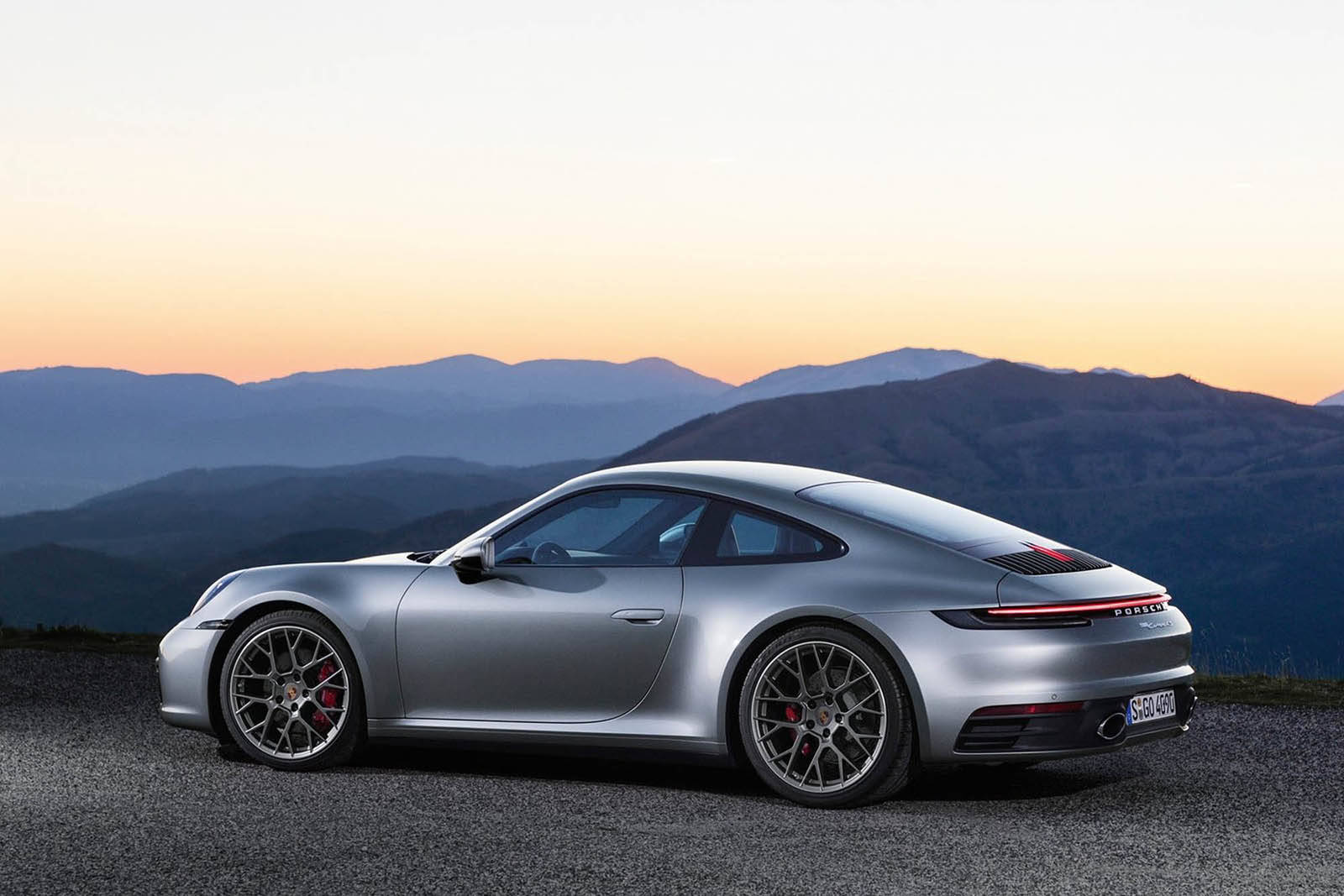 The rear fenders are noticeably wider, the engine vent has been reshaped and the taillight is now a thin ribbon that extends the entire width of the engine cover (as does the blacked-out exhaust panel below the bumper). The changes add a touch of elegance to the 911's iconic shape.
In equal measure, the interior is a treat for the senses and remains accessible and comfortable for taller folks. Once aboard, the first thing you'll notice, other than the contoured seats, is the elegantly styled dashboard and a floor console that now comes with a built-in cupholder. That's a first for the 911, by the way.
There's still some semblance of a rear seat in the 911, although anyone who has had the misfortune of occupying it can attest to its laughable legroom. Consider the 911 a two-seater. Fortunately, the seatback can be folded to create a handy parcel shelf.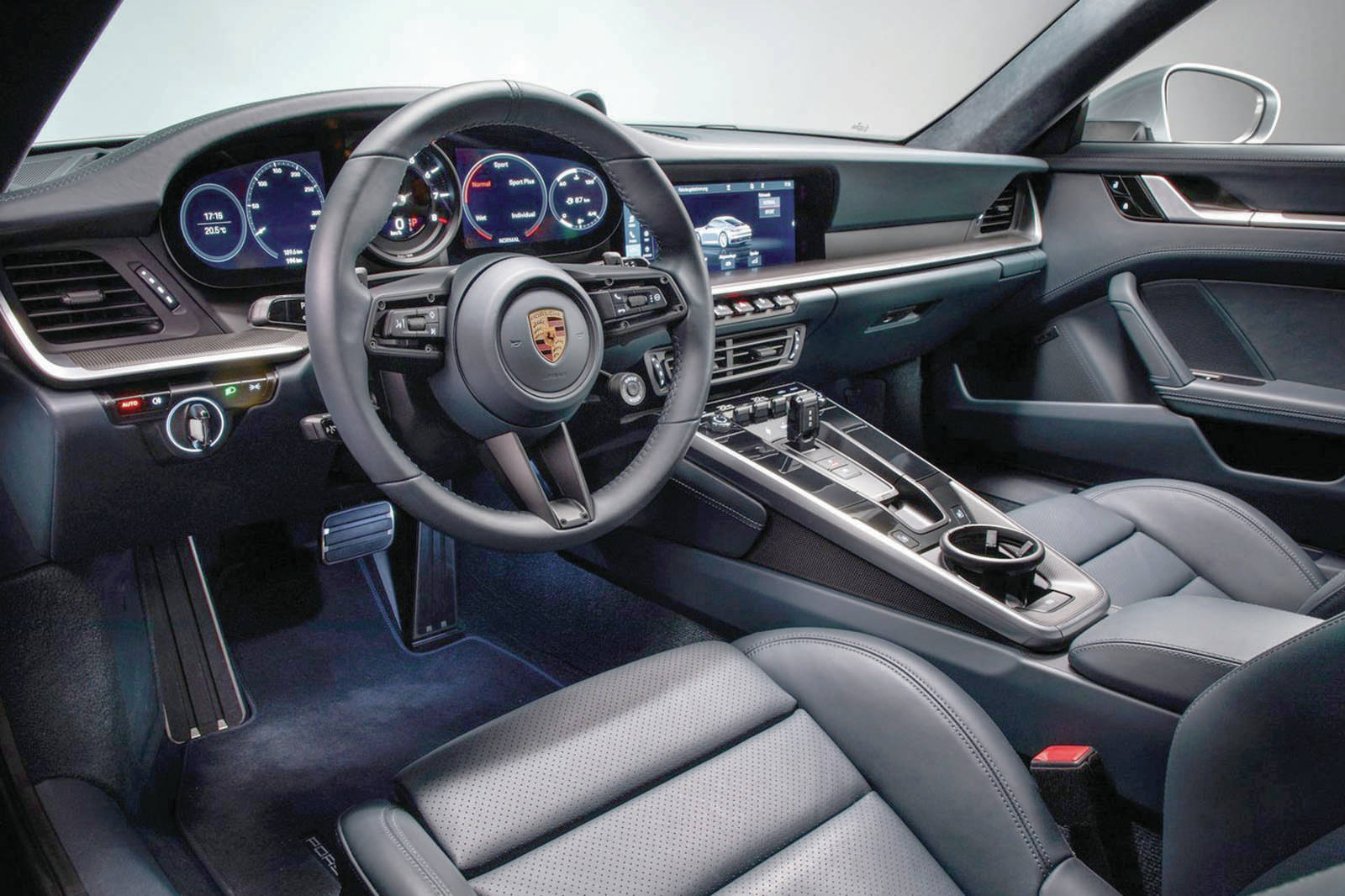 Additional interior changes include the adoption of digital (instead of analog) gauges, and a 10.9-inch touch-screen that blends neatly into the dash instead of being awkwardly propped up on top.
For the all-wheel-drive Carrera 4S test car, inserting the key fob into the left side of the dash — it's a Porsche thing — fires up a twin-turbocharged 3.0-litre horizontally opposed six-cylinder engine that puts out 443 horsepower and 390 pound-feet of peak torque. That's 64 more horses than the base rear-wheel-drive 911 Carrera (and 59 more pound-feet), but a couple hundred less than the top 911 model.
A seven-speed manual transmission is available, however the 4S test car came with a paddle-shift eight-speed automatic. It's a no-extra-cost perk, or you can look at the manual as a no-extra-discount option.
Zero-to-100 km/h happens in a Porsche-recorded 3.6 seconds, or 3.4 seconds using the launch control. In each case, the 4S's AWD system transfers up to 40 per cent of the engine torque to the front wheels for added traction. This also helps out in winter driving conditions, if you feel so inclined.
Fuel economy with the automatic transmission is rated at 13.1 l/100 km in the city, 10.2 on the highway and 11.8 combined.
Piloting the 911 feels almost surreal. After a few minutes driving rapidly and cornering and stopping quickly, it feels completely natural. Instead of driving the car, you feel as though you're wearing it. Like a tracksuit.
The 911's confidence-inspiring nature is what makes the car great. It comes at a starting price of $141,000, including destination fees. The base two-wheel-drive 911 with 379 horsepower runs about $114,500.
From that point, the cost can get seriously out of hand if you select just a few of the available options. For example, the sure-stopping carbon-ceramic brakes add $9,000, the sport seats and carbon-fibre roof panel go for $4,000 each, and the incredible Burmester audio system adds $5,500. That's just a smattering of a temping list.
For those who can afford it, the Porsche 911 Carrera 4S won't disappoint and will definitely open your mind as what constitutes an exotic sports car.
What you should know: 2020 Porsche 911 Carrera 4S
Type: Rear-engine, all-wheel-drive sport coupe
Engine (h.p.): 3.0-litre DOHC horizontally opposed six-cylinder (443)
Transmission: Eight-speed dual-clutch automatic; seven-speed manual (opt.)
Market position: One of the most storied premium sports-car brands continues to refine and expand its model selection while maintaining the overall shape that has been a Porsche 911 hallmark for several decades.
Points: Subtle redesign manages to make a bolder statement. • Interior makeover is significantly more up to date. • Exceptional thrust from the turbo H-6 engine. • Limited assortment of active-safety tech. • Speedometer is almost impossible to view behind the steering wheel. • Expensive, especially after adding only a few options.
Driver assist: Blind-spot warning with cross-traffic backup alert (opt.); active cruise control (opt.); front and rear emergency braking (std.); inattentive-driver alert (n.a.); lane-departure warning (opt.); pedestrian detection (n.a.)
L/100 km (city/hwy) 13.1/10.2; Base price (incl. destination) $141,000
BY COMPARISON
Acura NSX
Base price: $192,900
Mid-engine AWD hybrid puts out 573 h.p. and 476 pound-feet of torque.
Nissan GT-R
Base price: $132,000
Front-engine AWD coupe's twin-turbo V-6 delivers up to 600 horsepower.
Jaguar F-Type R coupe
Base price: $121,700
Updated 2021 model with a 575-h.p. supercharged V-8 makes a desirable choice.
-written by Malcom Gunn, Managing Partner at Wheelbase Media
If you're interested in new or used vehicles, be sure to visit TodaysDrive.com to find your dream car today! Like us on Facebook and follow us on Instagram