Faith Jourdain didn't feel deeply connected to her Cree-Métis heritage for most of her life. Indigenous culture was never taught in school, and her grandparents had been made to be so ashamed of it, they rarely brought it up.
But last year, something changed for the teen. She signed up for an Indigenous arts course at her high school, Mount Boucherie in West Kelowna, and felt a sense of belonging and pride she hadn't experienced before.
Suddenly, she was engaging hands on with different Indigenous cultures, discovering the influence of nature and the seasons on their historic and modern art, and learning techniques directly from Indigenous artists. Jourdain said the course emboldened her to further connect with her roots. She went to her first powwow, created her own regalia and started learning to bead.
"I'm just so proud of it. I'm so proud of what I've done."
This year, the course Jourdain took is one of a long list of options students at her school have to choose from to fulfill a new provincial graduation requirement. Students finishing high school in 2023/24 will be the first in B.C. to have to have completed at least four credits in Indigenous-focused coursework.
READ ALSO: Indigenous-focused coursework to be a high school graduation requirement in B.C.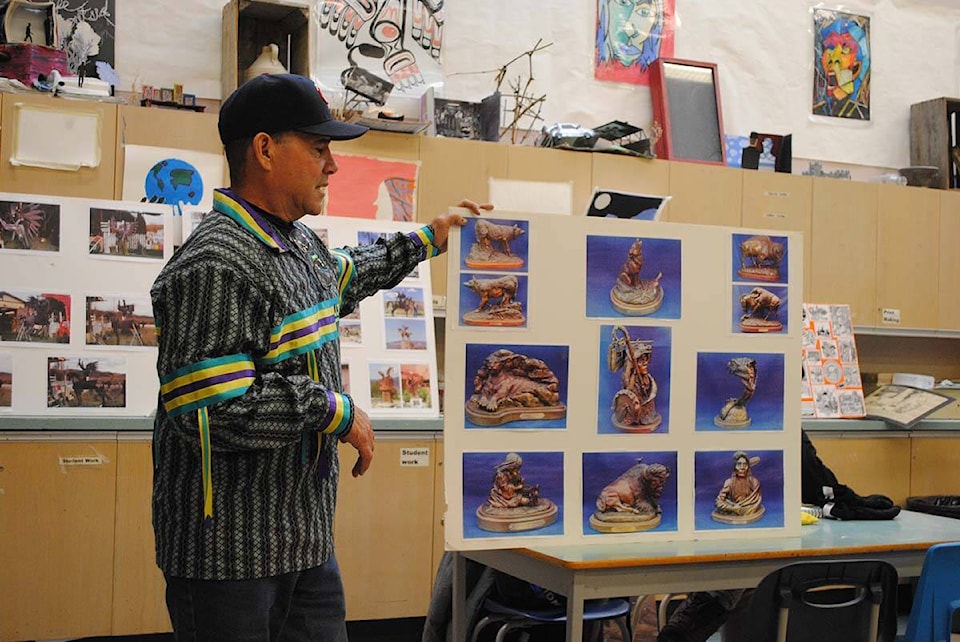 The province has provided 30 of its own options, including 20 language courses and 10 broader ones, such as literary studies and contemporary Indigenous studies. Most are worth four credits, but some are just two. School districts can also collaborate with local First Nations to create their own courses, so long as they receive provincial approval.
Indigenous Art Studio is one such course. Jim Elwood has been running it at Mount Boucherie for 18 years, but now, with the graduation requirement, is hoping to expand it to other schools in the Central Okanagan School District. He isn't Indigenous himself, but says he's made sure to work with the syilx people, honour their teachings and bring in Indigenous guest speakers whenever possible.
"We work very hard not to just make an art project. It's not a copying. It's understanding where the Nation is from, it's understanding nature, it's understanding the story and a lot of it is the purpose behind the artwork."
READ ALSO: Kelowna Art Gallery exhibit showcases students' learning on Indigenous culture
Three other school districts have also had their own courses approved, including Sea to Sky, Mission and Vancouver Island West.
As with Mount Boucherie, the Sea to Sky School District offered Indigenous courses prior to the graduation requirement. Karen LaRochelle, the principal of Spring Creek Community School and former district principal of Indigenous education, said their leadership and language courses were already well attended, but she still sees the requirement as a vital step forward.
"For non-Indigenous people, the importance is to take on that learning with all the resources that we now have around us, and not to leave the onus on Indigenous people to always be teaching us."
When districts create their own courses, LaRochelle said, it presents an opportunity to partner with local First Nations and expose students to the knowledge that immediately surrounds them, rather than presenting Indigenous people as a monolith that exists only in the past.
"If not, you're just otherising people by studying them."
Vivian Searwar, the district principal of Indigenous education at the Mission School District, said this was at the forefront of their minds when they created their own course, Téméxw te í: or "The Land of this Place," alongside the Sq'éwlets and Leq'á:mél Nations last year.
"This is the work that cannot be done alone, it must be done in community," Searwar said.
Their course teaches students stories of long ago on morals and values (Sxwōxwiyám), current news and events (Sqwélqwel), traditional ecological knowledge and worldview, and the relationship with the land (S'ólh Téméxw).
Jourdain, who is now in Grade 12, said she loved the art course she took last year so much, she is doing it again. And beyond creating a sense of pride for her and other Indigenous students, Jourdain said she can see knowledge and understanding spreading.
"I know that my friends who are non-Indigenous, they're going home and telling their family and it's a whole learning experience for everybody that I believe is so beneficial to the healing within the communities."
READ ALSO: Indigenous businesses striving for Truth and Reconciliation