A lone hiker was lucky to be rescued Sunday evening (Nov. 20), after he got lost in steep terrain near Squamish and called 911 with just two per cent battery left on his phone.
North Shore Rescue member John Blown said the hiker was visiting from Colombia, didn't know anyone in the Vancouver area and hadn't told anyone he was going hiking on Sunday. Had the man's phone died, Blown said, it could have been days before anyone reported him missing.
Fortunately, police were able to get approximate coordinates for the hiker from his 911 call and deduced he was near Mount Habrich. A light dusting of snow combined with steep conditions made venturing into the area too hazardous for Squamish ground crews, so North Shore Rescue was called in to help around 5:15 p.m.
Equipped with night vision goggles, a search light and high-powered LED flashlights, the crew used a helicopter to fly over the area. Because the hiker had no light source and was dressed in all black, Blown said it was especially difficult to locate him. Luckily, some nearby snow acted as a reflector and helped to light up the area where the hiker was perched.
"He was waving his arms madly," Blown said.
Two rescuers were lowered to the ground, where they assessed the man before hoisting him to safety around 7 p.m.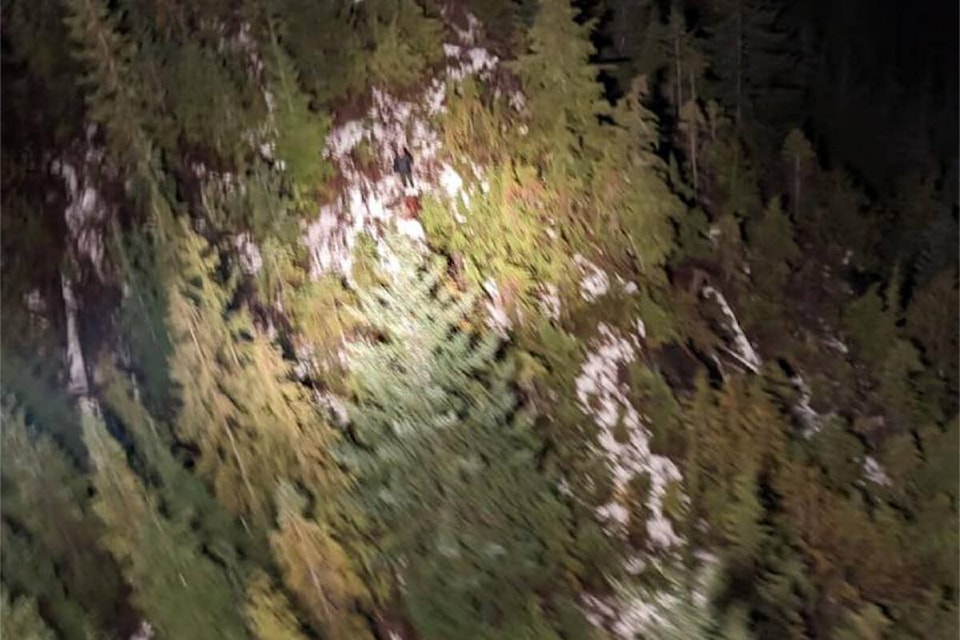 Blown said the hiker was found at 900-metres elevation and that the temperature was around 0 C when they got to him. He was wearing jeans and a wet puffer jacket.
"He would have been very hypothermic if he had stayed the night."
Blown said hypothermia not only puts a person into an extreme state of cold, but impacts their ability to make rational decisions as well.
"Sometimes people will try to hike or climb out of the area and they end up falling and hurting themselves."
Blown said the hiker was extremely lucky to have been found when he was and that the incident serves as a reminder for people to always be prepared before going into the backcountry.
The hiker was flown to Squamish and handed off to police and the search and rescue team there.
READ ALSO: Hiker rescued off B.C. cliffside after taking non-existent Google Maps trail